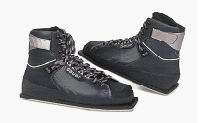 Sauer Shooting Boots Size 47 (UK 12-13)
Used "on and off" for 2-3 years but no use in the last 7 yrs. ISSF compliant - despite 'square' toe in picture ..... In VGC
£50.00
Interested in any of the above items?
Please contact me ... webmaster@psukshooting.org and quote the item number.
I will give the seller your details


SAM .22 50m Target Pistol
Pre owned .22 SAM (Swiss Arms Manufacturing) UK Spec, single shot 50 metre target pistol. Fitted with a large right handed walnut grip, which has been slightly altered to suit a previous owner. Please note this a manual operated mechanism ie NOT battery powered. Trigger is nice and crisp and breaks with minimal effort. Pistol overall in a nice clean condition, and comes with operating instructions and a carrying case.
£700.00

WALTHER LP400 'Carbon' Air Pistol
Purchased March 2017 & with little use the current owner "cannot get on with it". This is the latest variant with the Carbon effect barrel shroud. (As per the pic)
The grip is Large and Right-handed, with no modification, paste or grinding. The air cylinder, dated 02/17 can be used until 2027. THEN use the voucher included to exchange the cylinder for a new one to give you another 10 years!
Includes barrel weights, fill adapter (obviously) and tools all enclosed in a Walther carry case.
The NGB and a Scottish retail outlet are selling these for OVER £1500.00 Offers around £1100.00

I have managed to acquire a handfull of "BoreSnakes" - mostly .22 calibre but I also have .177 and .308 calibres
Whilst you can't beat a good old fashioned cleaning rod and patches, this is a quick clean option before packing up and heading home after a shoot.
Unbelievably the NSRA shop are selling these (in fancy plastic packaging that will end up in a landfill or at the bottom of the ocean) for £22.00 ??
These are in a poly bag and will set you back £5.00 (+p&p)
Champion - World Champion 1 - Shooting frame
Pic shows a large 'pistol lens' but these are fitted with the smaller rifle lens holder.
Complete with 'eye blind' - in box, with tools.
Reasonable offer should secure them


Champion Olympic Shooting Frame - Long Nosepiece
Increases the available height of the Champion Olympic shooting frames
Brand New - never used - £15.00 (RRP £20.00)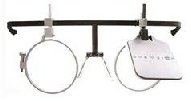 Centra 4mm sight raiser blocks for Anschutz with 12mm dovetail – used, but they're hardly likely to wear out are they? Missing the two central grub screws on the longer, rear rail hence only £20 posted (new ones are £40).
The best items are above!
Honestly, the best (read ONLY) items are above!


Here is a couple of items perfect for our full bore shooters -
I received the following message this week (8-14 July)
"I have on retention the following two Vehicle Registration Marks:
V555 SVV and V555 VSV
They cost me [a tidy sum] each and are now surplus to requirements.
I am asking £250 ono for each and I will include the Reg. Plates if they can be of use."