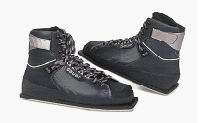 Sauer Shooting Boots Size 47 (UK 12-13)
Used "on and off" for 2-3 years but no use in the last 7 yrs. ISSF compliant - despite 'square' toe in picture ..... In VGC
£50.00
Interested in any of the above items?
Please contact me ... webmaster@psukshooting.org and quote the item number.
I will give the seller your details


ANSCHUTZ 1813 .22 Rifle
Pre loved .22 Anschutz target rifle model 1813, 660mm barrel, normal heavy profile, prone stock, for a right handed shooter, with adjustable cheek piece and older, fixed type, butt hook (not the newer Armadillo type). Anschutz steel rear sight with a colour filter and adjustable iris, standard Anschutz front sight with additional spirit level attached. Exterior of the barrel is clean, wood stock has the usual marks indicating normal usage
£800.00 Photo to follow
SAM .22 50m Target Pistol
Pre owned .22 SAM (Swiss Arms Manufacturing) UK Spec, single shot 50 metre target pistol. Fitted with a large right handed walnut grip, which has been slightly altered to suit a previous owner. Please note this a manual operated mechanism ie NOT battery powered. Trigger is nice and crisp and breaks with minimal effort. Pistol overall in a nice clean condition, and comes with operating instructions and a carrying case.
£700.00

WALTHER LP400 'Carbon' Air Pistol
Purchased March 2017 & with little use the current owner "cannot get on with it". This is the latest variant with the Carbon effect barrel shroud. (As per the pic)
The grip is Large and Right-handed, with no modification, paste or grinding. The air cylinder, dated 02/17 can be used until 2027. THEN use the voucher included to exchange the cylinder for a new one to give you another 10 years!
Includes barrel weights, fill adapter (obviously) and tools all enclosed in a Walther carry case.
The NGB and a Scottish retail outlet are selling these for OVER £1500.00 Offers around £1200.00

I have managed to acquire a handfull of "BoreSnakes" - mostly .22 calibre but I also have .177 and .308 calibres
Whilst you can't beat a good old fashioned cleaning rod and patches, this is a quick clean option before packing up and heading home after a shoot.
Unbelievably the NSRA shop are selling these (in fancy plastic packaging that will end up in a landfill or at the bottom of the ocean) for £22.00 ??
These are in a poly bag and will set you back £5.00 (+p&p)
Champion - World Champion 1 - Shooting frame
Pic shows a large 'pistol lens' but these are fitted with the smaller rifle lens holder.
Complete with 'eye blind' - in box, with tools.
No idea of price - reasonable offer should secure them

TWO Megalink 4K187's at 10m that operate independently in PC configuration. We have just decided to replace them as we are buying targets for the 25 yard range and have opted to standardise on Meyton. They are complete with cables, USB connector, MLShoot software and are registered with the NSRA. They are not immediately available as we have to order and commission our new equipment but they should become surplus to requirements by late 2018.
Price circa £1500-1700 each dependent upon whether you want the target stand and pellet catchers.
Can also be used for 50m prone rifle!
Items 4.2; 4.3….. Collect only


Champion Olympic Shooting Frame - Long Nosepiece
Increases the available height of the Champion Olympic shooting frames
Brand New - never used - £15.00 (RRP £20.00)